Community Calendar, Lifestyle
September 9, 2022
Dragons keep win streak alive with 58-8 victoryThe Dewar Dragon varsity football team pushed their regular-season win streak to 47-straight games this past Friday night at Dr. Ted Lewis Field in Dewar...
Bison see double in Wilson's 56-28 victoryThe Wilson Tiger varsity football team welcomed to the Bowlegs Bison to the Tiger Den last Thursday night for the non-district finale for both gridiron squads...
Preston maintains perfect district recordThe Preston Lady Pirate varsity fastpitch softball team finished with an unblemished district record this past Saturday with a 9-0 victory over the Pawhuska La...
On September 17 each year, Constitution Day is held. This is a special day for me as it often allows the opportunity to visit with students about the importance of this document and the work done by o...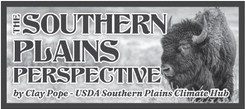 Have you got $20One of the things that I like most about my work is that I get the chance to dig into research and news reports about agriculture and climate change. You never know what you might find...
Henryetta Fighting Hen Coffee was held at the Colonial Restaurant. The group honored Barbara Gilpatrick with a cake for her birthday. Barbara had been Treasurer for the Hens and the All-School reunion...
The Dewar Lady Dragon varsity fastpitch softball team earned a hard-fought 2-1 victory over the visiting Maud Lady Tigers last Thursday evening at Al Kessel Field in Dewar.The Lady Dragons were back i...
The Okmulgee Lady Bulldog varsity fastpitch softball team ended their district schedule last Wednesday evening with a doubleheader showdown with the Roland Lady Rangers in Roland.The Lady Bulldogs dro...
The Preston Pirate varsity fall baseball team walked away with two wins over Class A Top 15 teams this past weekend at the Amber-Pocasset Baseball Festival.The Pirates (ranked 9th in Class A) began th...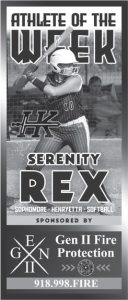 Rex delivers district crown with walkoff HRSophomore Serenity Rex delivered the biggest hit of her young high school fastpitch softball career last Thursday evening at the Henryetta high school softba...
Grayson, Martel lead charge for Beggs in 44-36 winThe Beggs Golden Demon varsity football team closed out their non-district schedule on a winning note last Friday night at Verdigris High School.The D...