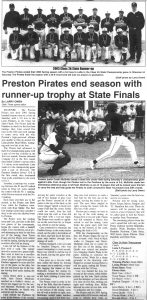 Preston's 2003 state baseball runner-up season revisitedThe 2023 spring baseball season concluded last weekend with Classes 6A-2A crowning state champions.Twenty years ago, the Preston Pirate varsity ...
Monday is Memorial Day. This is an American holiday initiated to stop and honor our fallen soldiers. There are cities in every state that hold Memorial Day parades and events and include different vet...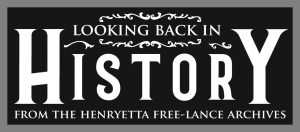 Warehouse Outlet was having a grand opening with door prizes, deeply discounted items, grand prizes, and a free lunch.The Henryetta Chamber of Commerce and One Fire Casino presented the 7th Annual Jim...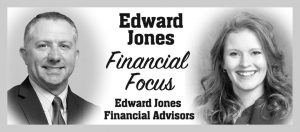 Like everyone, you may have a lot of financial goals. But are they all of equal importance? Probably not. And do they share a similar timeline? Again, it's unlikely. So, your first step may be to prio...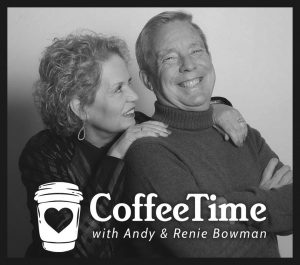 The batter is warming up on deck - meaning he is the next one to come to the plate to face the pitcher. The man on the pitching mound is known for sinking the dreams of wannabees - the home run hitter...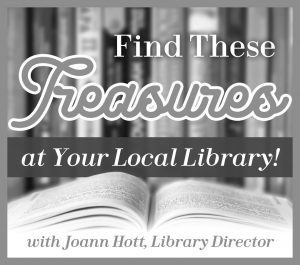 Barbara Bottner, American author of children's books, feature scripts, short stories for magazines and primetime comedy, celebrates her birth May 25, 1943, in New York, New York.Bottner grew up wantin...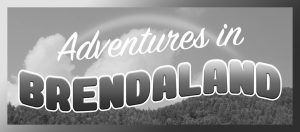 I took a big step with my mini farm this past week. I filled out paperwork and have been approved for a 'farm number'. I'm totally excited about this new step in my move towards self sufficiency.A far...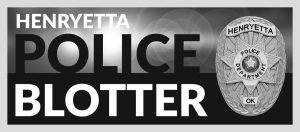 3:18 p.m. - 500 Block S 10th - Stolen Vehicle - RP advised his gray 2008 Chevrolet Silverado was stolen. It had a trailer with a lawn mower on it.6:53 p.m. - QuikTrip - Indecent Exposure - RP advised ...
The Oklahoma State Historic Preservation Office (SHPO) is moving ahead with plans to complete an architectural survey of Oklahoma's All-Black Towns. The SHPO is seeking a qualified consultant or firm ...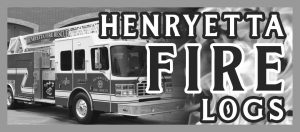 10:00 a.m. - Good Intent Call12:10 p.m. - EMS Call12:48 p.m. - Dispatched & Canceled2:20 p.m. - EMS Call4:50 p.m. - EMS Call5:15 p.m. - EMS Call7:50 p.m. - False Alarm ---05/17/20233:01 a.m. - Lockout...
12:35 a.m. - Southbound Hwy 75 - Suspicious Person - RP advised of a white male wearing a red shirt walking in the roadway waving at motorists that almost hit him.6:32 a.m. - 24000 Block D St. - Anima...